I have recently come across two pretty cool linky parties hosted by The Teacher's Lane that you will want to check out! The first is a Grade Level linky party where you can link your blog to others in the same grade level...makes for easy following! Click the image to link up.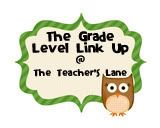 The second is an Educators on Pinterest linky party. Pinterest seems to have gone from "Pinter-what???" to "have to have one" in no time! Want to organize and share your interests in a fun, creative way? Click
HERE
to explore and maybe even join the fun!