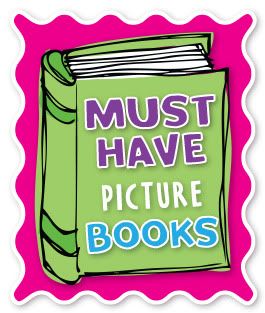 Another linky...and I am a bit late jumping on board with this one! How did I ever miss it?
I love, love, love reading picture books to my kindergarteners. I have many favorites, so narrowing them down to a list of 5 "must-have" stories is a challenge! But here we go...
These are my Top 5 favorites for engaging students and teaching them something valuable along the way! (All five are linked to Amazon if you click on the picture.)
Ish is an adorable book by Peter Reynolds that teaches kids that it's okay to not be
perfect
. The main character gets discouraged when his brother laughs at one of his drawings...from then on nothing he draws is good enough and ends up crumpled on the floor. Little does he know that his little sister has been collecting these crumpled pictures and creating a gallery in her room. She teaches him that it is okay to be "ish". I LOVE the message in this story and read it early on every year...it so helps those little one that want every picture to be perfect.
This book is fun for its illustrations and wonderful story. Verdi is a young snake that doesn't want to grow up and turn green like the boring adult snakes he sees. But he learns that you can't stop growing up...nor do you have to. He grows to be wiser and safer, but still fun-loving.
This is a must read for the first week of school. Finding this treasure of a book has made my classroom management so much easier! It takes the idea of spreading kindness and makes it very visual. My students talk about this book all year. No one wants to be a bucket dipper!
I love this book for teaching about bullying. It is a blast to read with great pictures and really fun wording. The kids get very wrapped up in the story. Are they ever surprised at the end when the bully problem is solved in a way they never expected!
Jenny loves to draw. But, her school assignment is to write a story...and her teacher says "Words first!" Jenny can't even get started. When her pet guinea pig becomes lost she draws pictures of what she imagines has happened to him. In the end, she discovers that her pictures tell a story...pictures first. My kids loved Jenny's illustrations and learned that writing a story happens differently for everybody.
And there you have it...my "Top 5"...I wish I could keep going! If you have favorites to share, be sure to link up at
The Teacher Wife
! Thank you Lindsey for putting this together! I will be reading about favorite books for days (and probably adding many to my collection)!
=) Happy reading!